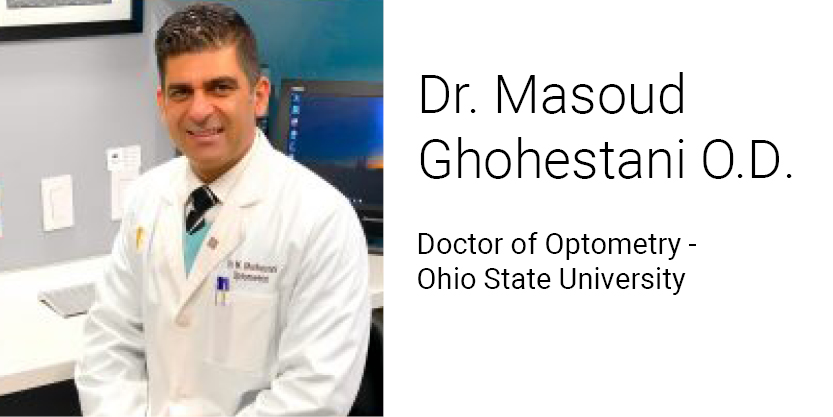 Dr. Ghohestani is originally from Lincoln, Nebraska where he started his undergraduate program at University of Nebraska, majoring in Biological Sciences and Chemistry. He received his Bachelors of Sciences Degree, with Honors, in 1994. In the Fall of that year, he started his Doctor of Optometry program at the Ohio State University. He completed an internship program at the Dayton VA Medical Center and graduated, with Honors, in 1998. Dr. Ghohestani holds active optometric licenses in Indiana, Ohio, Kentucky, and Florida.
Dr. Ghohestani has been affiliated with Wal-Mart since 1999. He has been practicing inside Aurora Wal-Mart since 2002 and at the Colerain Wal-Mart since 2006. He is an active member of Ohio Optometric Association, American Optometric Association and National Optometric Association. Dr. Ghohestani has extensive experience in primary eye care, fitting specialty contact lenses: bifocal, astigmatism, gas-permeable; pediatrics vision care, treatment of eye diseases and eye infections, treatment and management of glaucoma, removal of foreign bodies, diabetic eye health evaluation, laser vision correction consultation, and cataract surgery co-management.
Dr. Ghohestani and his three young children live in Mason, Ohio. In his limited spare time, he enjoys golfing, riding his motorcycle, cycling, and numerous trips to the Cincinnati Zoo, Chuck E. Cheese, and Childrens' Museum! Dr. Ghohestani is currently accepting new patients in his Aurora and Colerain offices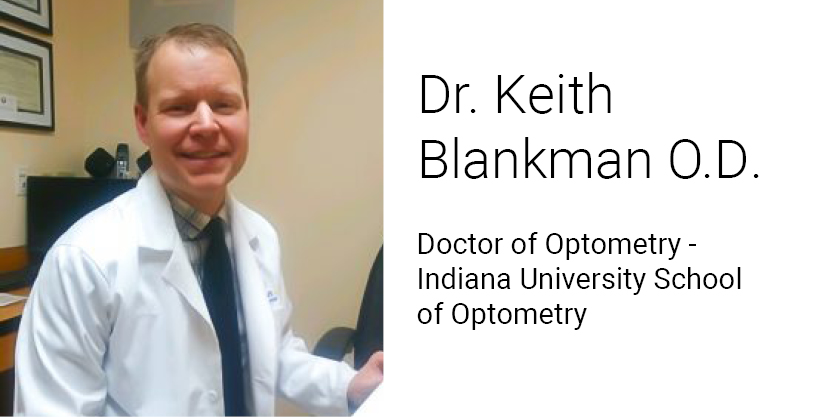 Dr. Keith Blankman graduated from Indiana University School of Optometry in 2001 with his Doctor of Optometry degree. Previously, he had earned his Bachelor of Science degree in 1994 from Indiana University School of Allied Health Sciences, also in Bloomington.
Dr. Blankman has practiced in multiple clinical settings, private practice, and the Veteran's Hospital Eye Clinic. He enjoys seeing patients from age 5 to 105, addressing refractive, ocular health, and contact lens needs. Dr. Blankman's hometown is Greensburg, Indiana, and he now lives in Dearborn County Indiana. He has a son and a daughter and enjoys supporting local sports teams including the Reds, Bengals, Pacers, and Hoosiers.Dr. Blankman routinely sees patients at any of the Advanced Vision Care Center locations.